HAVILAND RAILROAD CHINA
Railroad China Books Available
U.S. & CANADIAN RAILROADS THAT USED HAVILAND CHINA.
RAILROAD: BACKMARKS:
Atlantic Coast Line Railroad Co. G.D.A.
Canadian National Railways. Theodore Haviland.
Canadian National Hotels Limited. Theodore Haviland.
Canadian National Electric Railway Theodore Haviland.
Canadian Northern Railway. Theodore Haviland.
Canadian Pacific Railway. G.D.A.
Chicago, Burlington & Quincy Railroad. (inc. Burlington Route) H & Co.
Chicago, Milwaukee & St Paul Railway. H & Co and G.D.A.
Chicago, Milwaukee, St Paul & Pacific Railroad. H & Co.
Chicago, Milwaukee & Puget Sound Railroad. H & Co and G.D.A.
Delaware, Lackawana & Western Railroad. GDA
Erie. G D A.
Grand Trunk Railway. Theodore Haviland.
Kansas City Fort, Scott & Memphis Railroad (inc. Memphis Route) H & Co.
Lake Shore and Michigan Southern Railroad H & Co.
Lehigh Valley Railroad. GDA
The Missouri Pacific Railway Co. Theodore Haviland.
New York Central Lines. H & Co and GDA.
The Northern Pacific Railway Co. Theodore Haviland.
Pullman. H & Co.
Southern Railway System. (inc. Queen & Crescent Route) G.D.A.
Washington Terminal. G.D.A.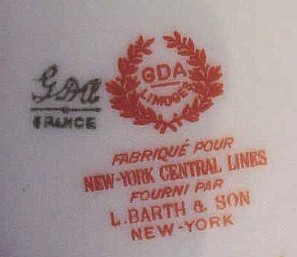 Much of the china supplied to the railroads was ordered via a small number of wholesaler companies. Two of the largest were L. Barth & Son of New York and Burley & Co of Chicago and their backmarks are often found along with the railroad's name on the backmark.

Railroadiana is an interesting area of collecting. It is can also be VERY expensive. A railroad frontmark logo or backmark on an item of china can increase the value many times. There are a number of patterns, such as the violets and daisy pattern (Haviland pattern Schleiger # 453, also produced by Buffalo China Company and Syracuse China), which were backmarked by the railroads but they also supplied the same pattern for general sale to the general public. It is therefore important to remember that with certain patterns only railroad backmarked items can be guaranteed as genuine Railroadiana. As with all items of china, good condition is essential – chips or cracks will reduce the value dramatically.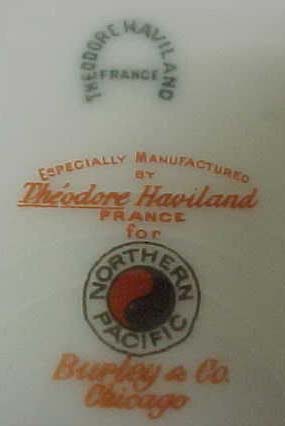 The backmark above was on a Northern Pacific Railway Company dinner plate with the railroad pattern known as 'Garnet'. Much of the railroad china which was used in Canada about 100 years ago was from the Limoges factories of Theodore Haviland and GDA.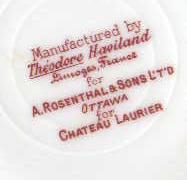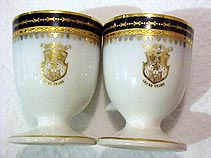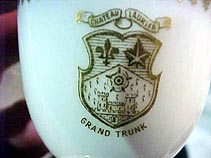 The three photographs above show a pair of Theodore Haviland manufactured egg cups which were supplied by A. Rosenthal & Son Ltd to the Chateau Laurier, a hotel owned by the Grand Trunk Railroad before the First World War. This pair of egg cups, with such a nice frontmark and cobalt around the rim, would fetch well in excess of US$500.
Railroad records tend to be very extensive and are a useful way of helping to date china more accurately. For instance, most of the railroads in Canada were nationalized in 1919 forming the Canadian National Railways. The Grand Trunk egg cups illustrated earlier in this article can therefore be more accurately dated (to pre 1919) than just using the Theodore Haviland backmark which was used from 1903 into the 1920's.
BOOKS: ( available for sale at HavilandOnline)
The Official Guide to Railroad Dining Car China by Doug W. McIntyre
Richard Owen.
Email address:- havman@47owen.screaming.net